Yesterday was the first day of the Major League Baseball season, the Men's NCAA Basketball Championships were last night (though I did not watch in protest to my Cats being bounced), this weekend the Masters begin at Augusta, as does Keeneland's Spring Race Meet. Spring is a busy time for sports and Lexington seems to center many of its social occasions around them. But when you stop to think about it, in a sports focused community, why don't we have any major league sports in the ENTIRE state of Kentucky?
At first glance it could be that our population couldn't support one with our meager 4.5 million people. It could be that our rank of 47th wealthiest state per median household income can't finance the stadium and upkeep that would be required. Or it could be this little game we like to call college basketball.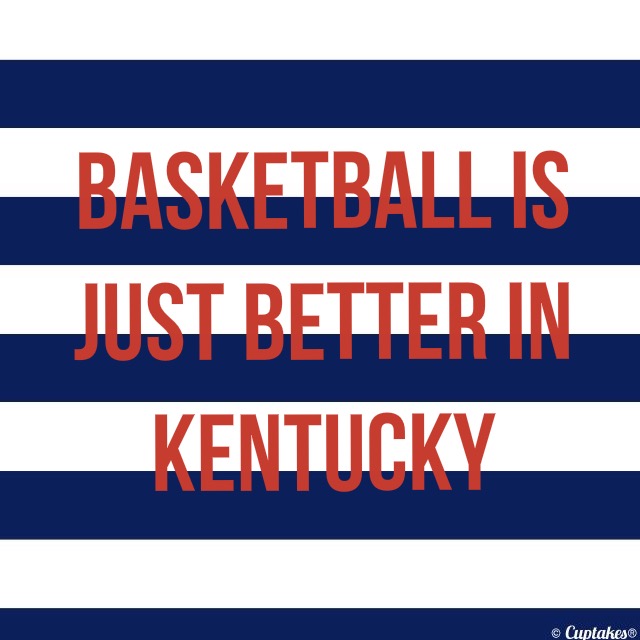 The state of Kentucky has 7 universities that have received bids to go to the NCAA Tournament. It was a grand total of 154 bids by Kentucky schools, including 2017. Complete List Here That's a lot for a state of 4.5 million people. Universities of Kentucky and Louisville are ranked in the top 5 most profitable basketball programs in the nation year after year, often holding the the top spot. Games for both schools are major social occasions and family traditions that many in the state hold dear, passing down reserved seats through generations. Your CATS or CARDS fandoms are fierce battle lines in the state, but everyone supports the Murray State Racers when they earn a spot in the national spotlight. Because in Kentucky basketball is community and pride, it's homegrown kids who bring positive recognition to our state. It's a powerhouse of NBA stars who have called Lexington home and come back to visit. It is two coaches, Pitino and Calipari, who have fully embraced our state and it's people (as proven by their horrid pizza and car commercials). If we had a professional team, it would be hard to love them quite as much as our college athletes that have come here to work hard and play a game they love.
(7 Universities that have received bids to the NCAA Tournament: Kentucky, Louisville, Western Kentucky, Murray State, Morehead, Eastern Kentucky, and Northern Kentucky)
Note: I didn't include the Women's teams, purely because this blog isn't long enough to contain my love for both.